Zombie King Spawn Point
Credit: My zk hunt teacher - Desbaby
well... for experienced players...
1 tank, 1 healer, 1 dd is enough...
For new zk hunters...
1/2 tank, 2 healer, 1/2 dd is better...
Zk is 0.5 bigger than normal size zombie...
and he have two "helpers"...
As from the picture u can see...
there are total 9 respwan point...
G0... rather dangerous point cause the room is big so u need to check out whether it is in there...
D1... lure it at the upper room entrance and watch out the mob behind u...
B1... can finish it at there...
B2... if u are lucky there will normally have treasure chest around it...
D3... same method as D1 just sometimes its is troublesome will having a group of mob... at the door...
F4... to get there u need to cross D4 room...
D5,D6,E8... easiest spwan point...
To get there safe...
u must run as near the wall as possible...
when running pls use hp stone and pots... dont rely on cleric...
cleric dont self heal... use stone/pot when chase by mob...
when face a group of mob how to get through?
When this thing happen...
1st try to see whether there is any other possible way...
2nd if there is no other way...
1 Cleric invi himself and lure the mobs away...
while the cleric do this...
others move quick through and dont follow the cleric...
The cleric(lurer) need to run other other direction from zk spwan point,
so when the mobs return they wont clash with ur party...
heres the image guidline for new zk hunters: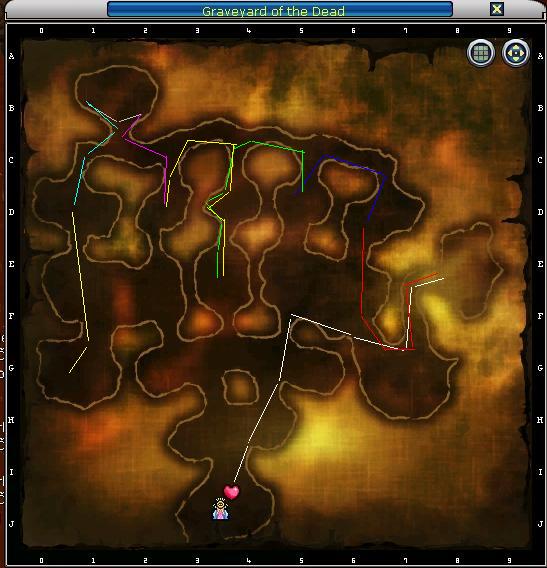 b4 go ZK make sure all team member already restone/pot

when u face a zk...

rest to full hp/sp first

acher/mage go to lure...
fighther(tank) stand at the front...
when cleric can see the zk , he cast invi to tank
and when tank is being casted invi, use mock
tank the zk and zombies...
till zk die...

Tips for tank...
a tank can be fighther or cleric(lv39)...
cleric tanks is not suggest...
for a fighther... u need to watch ur hp bar, dont 100% rely on ur cleric...
cause when ur cleric lag/dc and u r rely from him/her... the result... u know...

keep mock to prevent zombie go to dd...

Tips for cleric:
if u r 1st time for zk strongly suggest u spam heal on ur tank
and focus on him even the zombies attack ur damage dealers
and NOT to rest while fighting zk... i seen b4 when i use fighther... a cleric rest to recover his sp while tank tanking zk... =.= lll
when ur tank die... dont go to tank zk urself... and dont go to res tank immediatly...
Run is more important... because when tank is died...
and u go to fight zk/res tank zk will hit u... and normally u will die... and whole party die...
so run away first till zk go away from tank then res him...

Tips for dd:
first kill those two zombie which come along with zk...
by doing this u may aggro those two zombie... u hp stone/pot... dont over rely ur cleric...
cause when the party is new to hunt zk...
there are a big chance the fighther will die =.= if two cleric didnt focus on him...
before going...
make sure ur party is already restone/pot...

and
discuss how r u guys gonna divide the drop first
Hope my guide can help u,
LostDEwind
ps:

In my opinion...
Just my opinion...

hunting boss is not a good way to earn money...

In fiesta... how do the money come from?
gold spammer, other player?
wrong... they come from npc...

so try to earn money from quest and drop(mat)...

for hunting boss...
if he drop equip is good... but that is IF...
when he dont drop anything...
u will loss quite an amount money for stone and pot
and even he drop u will need to divide...
for the equip for sale to player... u need to wait...

so i feel that hunting boss is not a good way to earn money
This guide must have taken you like forever to make. Are you going to make one for GK also? ><
Heavy Poster





Posts

: 149


Join date

: 2007-10-20



Gk is easy and the spwan point are clear...
beside i havent know the details yet><
NEVER GIVE GK A DANCE B4 KILLING IT...BECAUSE IT CAN RESULT IN DEATH!!! ~_~
Heavy Poster





Posts

: 149


Join date

: 2007-10-20



^^,

GK GK GK,

i reached lvl 50+ without using GK weapons,

Funny ^^,

_________________
"You have to know you can win. You have to think you can win. You have to feel you can win."
newbie





Posts

: 31


Join date

: 2007-11-11


Age

: 101


Location

: URUGA





Similar topics
---
Permissions in this forum:
You
cannot
reply to topics in this forum